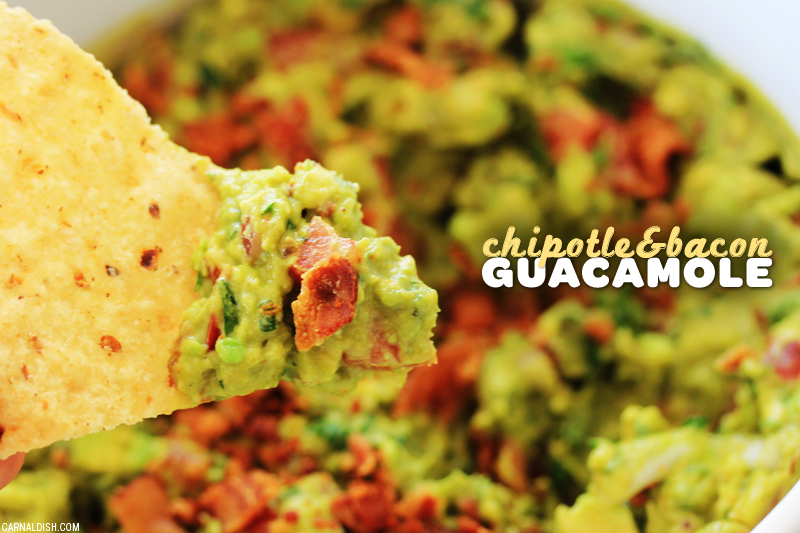 Recipe below…
This is a very yummy, smokey alternative to regular guacamole. Perfect for bbq's and parties, or just regular snacking. Enjoy.
Ingredients:
2 large ripe Hass avocados
1 to 2 chipotle peppers in adobo sauce, finely chopped, plus 1 tablespoon of adobo sauce
1 roma tomato, seeded and diced into chunks (optional)
¼ cup red onion, finely chopped
3 tbsp fresh cilantro, finely chopped
Juice from one lime
Juice from half a lemon
2 small cloves garlic, minced
salt and pepper to taste
½ tsp cumin
¼ to ½ tsp chili powder
¼ tsp smoked paprika
¼ tsp cayenne pepper
4 to 6 slices crispy bacon, chopped
Directions:
In a large bowl, combine all ingredients with a large fork or spoon. Taste and adjust seasoning if necessary. Serve immediately.
To store, transfer guacamole in an airtight container. Keep an avocado seed inside of the guacamole and press a layer of saran wrap directly on top to keep it from oxidizing (turning brown). Finally, cover with an additional layer of saran wrap and eat within 2 days max.
copyright CarnalDish 2012